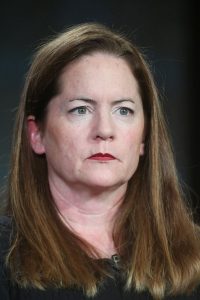 Martha Kelly
Martha Kelly is a stand-up comedian based out of Austin, Texas. She has been featured on Late Night with Conan O'Brien, Comedy Central's Premium Blend, Last Comic Standing, and The Late Late Show with Craig Ferguson. Kelly was the winner of Comedy Central's 2002 Laugh Riots national comedy competition and was one of the New Faces in the Just for Laughs comedy festival that same year.
Guest Appearances
The Boys try to make MARTHA KELLY famous enough to be a Try Month guest. This episode is sponsored by Blackout Podcast, Brilliant Earth (www.brilliantearth.com/THEBOYS), hims (www.forhims.com/HANDBOOK), and Philo (www.philo.tv/theboys).
Listen
Join Kevin as he sits down with comedienne-turned-actress Martha Kelly (Baskets). Martha chats about laughing through painful silence, female comics she admires, and the joy of having less lines means you have less work.
Listen
Comedian and actress Martha Kelly joins the Sklars for a live Sklarbro Country episode from Moontower Comedy Festival in Austin. The show also features musical guest Josh Adam Meyers. Martha describes her experience co-starring in "Baskets." Daniel Van Kirk brings a County…
Listen
Earwolf
Newsletter Signup