Aasif Mandvi
Aasif Mandvi is an Indian-American actor and comedian. He began appearing as an occasional contributing correspondent on The Daily Show on August 9, 2006.
Guest Appearances
You probably got to know him as the "Senior Middle East Correspondent," or the "Senior Muslim Correspondent," or maybe the "Senior Foreign Looking Correspondent", but actor, writer, and former Daily Show correspondent Aasif Mandvi has moved into the hot seat for this…
Listen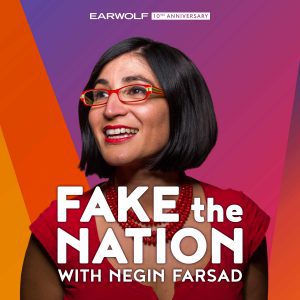 Aasif Mandvi (The Daily Show, No Land's Man) and Aparna Nancherla (Late Night with Seth Meyers, Comedy Central) join Fake the Nation for their first ever LIVE SHOW from WNYC's The Greene Space! On tap: the thing giving Americans widespread panic; Putin…
Listen
Hayes and Sean have to basically skip the whole intro because their contract has lapsed. Instead of celebrating their 100th episode, they negotiate a new contract with Scott Aukerman and AASIF MANDVI, who couldn't do the show any other time.
Listen
Earwolf
Newsletter Signup