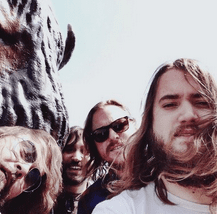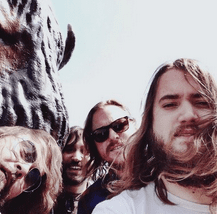 Buffalo Killers are an American rock band comprising guitarist and vocalist Andrew Gabbard, bass guitarist and vocalist Zachary Gabbard and drummer Joseph Sebaali. The band was formed in Cincinnati, Ohio, in 2006 following the dissolution of Thee Shams, of which the trio were members. Buffalo Killers were quickly signed by Alive Records and their self-titled debut album was released in October 2006; Buffalo Killers drew the attention of Chris Robinson, who invited the band to open a string of dates for The Black Crowes in 2007. Buffalo Killers' second album, Let It Ride, was produced by Dan Auerbach of The Black Keys and released in July 2008.
It's a full house in the County this week as the great Craig Anton finally drops by along with the wonderful sounds of Cincinnati's the Buffalo Killers! Tune in to hear about how Craig teaches an acting class as a professor as well as the play he's directing called Dental Society Midwinter Meeting all while the Buffalo Killers play music from their latest album Heavy Reverie. Daniel Van Kirk is also in the house bringing in some crazy stories including a North Carolina man who was arrested after taking his pants off at a Waffle House, Minnesota high school pranksters who call for a mandatory vagina inspection, and a Florida man who is hospitalized after attempting to have sex with a beer can. Plus, we hear a very special message from Bob Costas from the Kentucky Derby. Make sure to head on over to Netflix to stream The Sklar Brothers' one hour special "What Are We Talking About" right this very minute and don't forget to cop the album available on iTunes today!
Check out the Buffalo Killers' full tour schedule over at www.buffalokillers.com!
Catch The Sklar Brothers LIVE at the Up Comedy Club in Chicago, IL on May 29th-31st and at the West Palm Beach Improv in West Palm Beach, FL on June 27th-28th. For tickets go to www.supersklars.com!
This episode is sponsored by:
Regimen. Go to www.repairlowt.com/sklar for a free 30 day trial.
Drinkwel: the world's first multivitamin for healthy people who drink. Go to www.drinkwel.com and use the offer code SKLAR for 15% off any purchase.