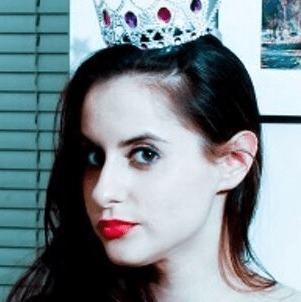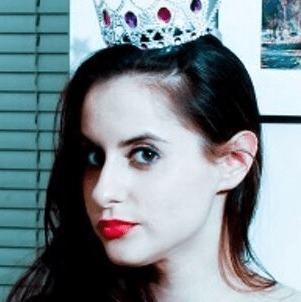 Corinne Fisher is a stand-up comedian, writer & actor originally from Union, NJ. She first made a splash with her debut one-woman show Corinne Fisher: I Stalk You (Dir. David Crabb) which had a run at The Peoples Improv Theater (The PIT) in the Summer of 2010 and was featured in Time Out New York. Since then, she has been a regular on the stand-up scene playing anything from dive bars to world-famous comedy clubs like Stand Up NY, New York Comedy Club, Caroline's, Upright Citizens Brigade Theatre, Broadway Comedy Club, Comix, Laugh Boston, The Stress Factory & Gotham. Her second stage show, Almost Former Reality TV Stars, had a run at The PIT in June 2011 and told the true (albeit slightly exaggerated) story of how Corinne and her real-life best friend, actor/model Thomas Whitfield, were hired, then fired from their very own reality TV show.
Known as @PhilanthropyGal on Twitter (slightly tongue-in-cheek…), in 2012 Corinne performed in a series of benefit shows for the Afghan Women's Writing Project alongside other female New York comedians including SNL alum Rachel Dratch. She was also selected for the prestigious Boston Comedy Festival, the Women in Comedy Festival & the She-Devil Festival. On YouTube, she is the messed up mind behind the Internet vlogger Gina Sprinkles and the voice of 'Toiba' on the cartoon web series Mystery Squad Gals, the brainchild of Ryan Duff.
Perhaps most notably, however, Corinne is 1/2 of Sorry About Last Night…, her comedy writing and performance duo with Krystyna Hutchinson. In December 2013, the duo launched Guys We Fucked: The Anti Slut-Shaming Podcast that now boasts over half a million subscribers. Having featured celebs such as Dan Savage, Jim Norton and even Jenni 'Jwoww' Farley in addition to real gents they've had their way with, the podcast is frequently ranked among the Top 50 podcasts on iTunes and has been featured in The Huffington Post, The Daily Beast, Elle, Bust and more. Previously, the duo wrote and starred in a self-titled sketch show that debuted at the Upright Citizens Brigade Theatre in NYC in the Spring of 2013 (Dir. Jon Bershad) and co-hosted a popular underground comedy variety show of the same name that has had homes at the Brooklyn Winery, The PIT and originated at Gotham City Improv. The show was like the best college keg party you've ever been to and featured comedy faves such as Hannibal Buress, Mark Normand & Big Jay Oakerson as well as cult folk-rock sensation Dan Bern.
Most recently, Corinne made her television stand-up debut on FOX's Laughs on the special "Under 30" episode. Fisher tours the college circuit regularly with seasoned comics like Jimmy Failla, Ryan Reiss, Ben Hague & Tom Kelly. She has opened for headliners Kevin Meaney, Colin Kane & Harrison Greenbaum. She also co-hosts a monthly show at New York Comedy Club called Nacho Bitches with West Coast-bred comic-on-the-rise Blair Socci where the pals show their audience love in the form of free nachos and the stand-up of comedy darlings like Gary Gulman, Yannis Pappas, Kurt Metzger, Ari Shaffir, Ted Alexandro, and SNL's Pete Davidson & Michael Che.
Corinne holds a BFA in Film & Video from the School of Visual Arts and is a graduate of the Upright Citizens Brigade Theatre's prestigious improvisation training program. She loves ice cream and the Spice Girls.