The New York Times called Derek Hughes "Thoroughly Entertaining!" and Time Out New York honored him with "Critic's Pick" for the off Broadway production of his original one man show Necromance: a Night of Conjuration, at Dixon Place Theater.
HBO invited Derek to perform his unique brand of comedy and magic at the US Comedy Arts Festival in Aspen Colorado and his stand up comedy has been featured on the NBC series, Late Friday.
Derek was "Logan", opposite Jaleel White, on the Paramount situation comedy Grown Ups. In the American remake of the British Channel 4 hit comedy series As If he played "Jamie", also for Paramount. He appeared in Adam Sandler's feature film Mr. Deeds and has guest starred on the Warner Brothers series Angel and Nikki as well as on the CBS hit drama CSI:NY.
Most Recently Derek leads a phenomenal cast, including Rance Howard, Richard Riehle, and Christa Campbell, in the independent feature film Audie and the Wolf, being produced by Brooklyn Reptyle Films.
The personification of magic is here. Good friend, hilarious comedian, and talented magician Derek Hughes joins the County boys to talk about how David Blaine changed the public perception of magic by bringing it back to the streets, ask for a sports starter kit, and share the one time he a magic trick did not go so well. Daniel Van Kirk is also here with crazy stories that include a Texan who allegedly pulled a sword & demanded free tacos and gas, a Florida woman who was seeking closure by setting her ex-boyfriend's house on fire, and a magical/mythical Craigslist ad. Finally, our buddy Mark Wahlberg stops by to share what New Year's resolutions he made for his brother Donnie. Make sure to check out Daniel Van Kirk's NFL column over at cover32.com and don't forget that you can now get your tickets for the Sklar Bros one-hour special tapings at the Majestic Theatre in Madison, WI. Also, the brand new Sklarbro County shirt is available in the Earwolf store just in time for the holidays!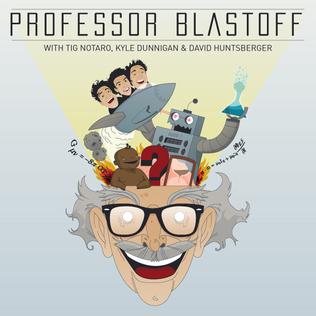 Slight-of-hand, illusions, the occult, what does it all mean? It's magic, and our guest this week is a master of it. Derek Hughes joins us on Professor Blastoff to share SOME of the secrets of the trade (no, he won't explain his tricks) from apprenticeships to dealing with skeptics. Perhaps he'll make a believer out of you!