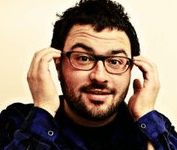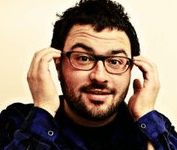 Eliot Glazer has trained under Will Hines, Charlie Todd, Joe Wengert, and Bobby Moynihan. He co-hosted and co-produced the variety show, High School Talent Show (2007-2010), with his sister, Ilana.
He has written for Billy on the Street and Best Week Ever, and currently writes, produces, and stars in "Eliot's Sketch Pad," a sketch comedy series on Above Average, the YouTube channel of Lorne Michaels' production company, Broadway Video.
He co-created and stars in the cult favorite web series€™ "Haunting Renditions" and "It Gets Betterish," the latter of which has been profiled in The New York Times, The Wall Street Journal, and Blackbook Magazine, and landed Eliot as one of OUT Magazine's annual 100 most influential people in the LGBT community in 2012.
His video, "Shit New Yorkers Say," went viral in January 2012, landing him on WNBC, New York Daily News, the New York Post, Opie & Anthony, The Leonard Lopate Show, and BBC Radio. He can currently be seen on the National Geographic game show Duck Quacks Don'€™t Echo and heard hosting the podcast for HBO'€™s drama Looking.
Most recently Eliot starred in and produced several digital shorts in support of HBO's "Looking," and is currently hosting the shows official podcast. He can soon be seen on season two of Comedy Central series Broad City, and on stage performing Haunting Renditions Live at Union Hall in Brooklyn in addition to Mashterpiece Theater at the UCB Theater.