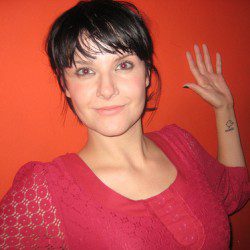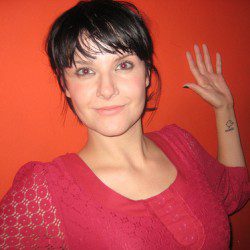 Erin McGathy is a comedian, writer, and *inspiration living all of the dreams in Los Angeles. As a Navy Kid who moved around a lot, she's willing to do just about anything to make you like her. She's like, SO much fun, you guys!!!
Erin has proudly performed at the UCB theatre since 2007 with Harold and Maude teams, in sketch shows, variety shows and in other charmingly unclassifiable performances. She is the creator and host of THIS FEELS TERRIBLE: The Love Show, a UCBTLA live show since 2010 and podcast since 2012.
She's a writer and comedian – you know her from her hilarious podcast "This Feels Terrible" and her frequent appearances on "Harmontown", the lovely ERIN MCGATHY is back to discuss her recent trip to Scotland (and engagement!) why Elizabeth's inbred theory might not hold much water, how Andy may have crossed the line when showing her pornography, and lastly she offers a new perspective on handling jealousy of other people's success. Enjoy!
Remember that girl in highschool who the guys wanted to hang out with because she's so rad and funny and the girls wanted to hang out with because she's so sweet and brings the best gifts to birthday parties? Well comedian ERIN MCGATHY is like that girl, except that she's also hot.  She's making waves in the comedy scene and is here to stay so you might as well grab a drink and spend a hilarious hour with her! Enjoy.