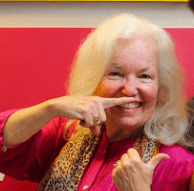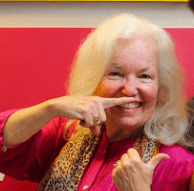 Jamie Donnelly is an actress best known as Jan, one of the Pink Ladies from the film version of Grease.
Jamie Donnelly aka "Brush-a Brush-a Brush-a" Jan the Pink Lady is back to talk more about the 1978 musical Grease. We'll hear if Jan was a snacker onstage as much as she was in the film, what would be the future of all the Grease characters, and possible inspiration for the end of the film. Plus, Jamie shares stories of stagnant LA river water, Seabreeze shammies, and Johnny Depp finger kisses.
This episode is sponsored by Blue Apron, Casper Mattresses, and Now Hear This Podcast Festival.
Jamie Donnelly and Barry Pearl portrayed Pink Lady Jan and T-Bird Doody respectively from the 1978 musical Grease but did you know that they've been performing Grease in the theatrical production prior to the film? Jamie and Barry join Matt this week to talk about auditioning for their film roles, the fly by during "Beauty School Dropout," the intense heat as they shot the gymnasium scene, restoring the laughs from the theatrical production, and much more.
This sponsored by Mack Weldon and Squarespace.