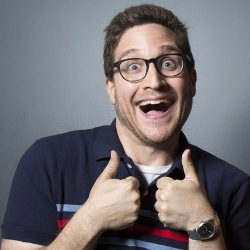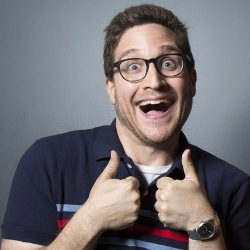 Josh Horowitz is the host of "Happy Sad Confused," a weekly celebrity interview podcast for Wolfpop. Since launching in 2014, Josh has welcomed the likes of Woody Allen and Kristen Stewart in their podcast debuts, alongside actors and filmmakers ranging from Michael Fassbender and Jeremy Renner to Richard Linklater and Darren Aronofsky.
Josh's memorably unique approach to celebrity interviews has landed him in New York Magazine's approval matrix (lowbrow-brilliant for the record) and earned no less than Will Ferrell's approval in his list of "10 Things That Make Me Laugh" in Entertainment Weekly.
Since 2006, Josh has been the MTV News movies correspondent, journeying the world to score rare exclusives with the likes of Jack Nicholson, Clint Eastwood, David Fincher, Tom Hanks, Angelina Jolie, Johnny Depp, Michael Bay, Paul Rudd, Ryan Gosling, Matt Damon and more.
A veteran of live red carpet coverage, Josh has hosted MTV's Movie Awards pre-show since 2011, and anchored the channel's comprehensive live-streaming coverage of the Academy Awards, Comic-Con, and Sundance, since 2007.