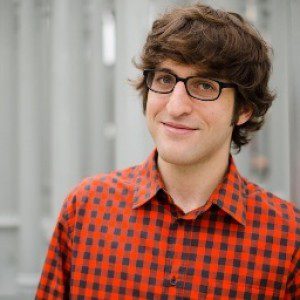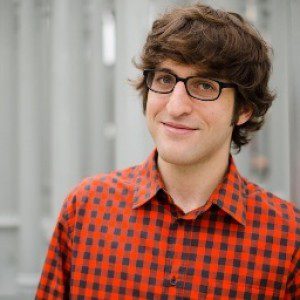 Matt Goldich is a stand-up comedian who has appeared on the Late Late Show with Craig Ferguson and Comedy Central's Premium Blend. He has also been a staff writer for Comedy Central's The Jesenik Offensive, Ellen, the Late Show with David Letterman and VH1′s Best Week Ever. He performs stand-up regularly in New York and Los Angeles and has performed at colleges around the country. He has appeared at the US Comedy Arts Festival in Aspen, Colorado and the Bridgetown Comedy Festival in Portland, Oregon. He has also written the game shows Stump the Schwab, The World Series of Pop Culture, and Cash Cab and the Spike Guys Choice Awards. He has won two Daytime Emmy Awards.
County favorite and fantastic writer Matt Goldich is back to talk about writing on Late Night with Seth Meyers, the benevolent vandalism he's experienced with his recent move to Harlem in NY, and misappropriated Shakespeare quotes. Then, Daniel Van Kirk brings us stories that include Darth Vader being arrested after a Jacksonville Beach attempted robbery, a New Jersey woman accused of making a fake 911 call so she could drive drunk, and a Brazilian group that is putting racist comments on billboards near offenders' homes. Plus, we hear a special message from Doug Buffone on why the Bears are doing so well recently.
Fantastic stand-up and writer Matt Goldich stops by to tell us how he and his brothers had one of the best experiences of their life at the Beijing olympics on today's Sklarbro County! Matt also tells us about growing up as a Phillies fan, his time writing for Stump the Schwab, one of many great jokes he wrote for The Jeselnik Offensive, and reads some of his favorite sports tweets. Daniel Van Kirk brings us some crazy stories as usual including a Florida city attorney who was arrested after he broke into a woman's home naked, how Classic Rock inspired an assault, and many men will go under vasectomies in front of a live audience as part of World Vasectomy Day. Plus, the return of your Weekly Wahlberg! Make sure to check out Daniel Van Kirk's NFL column over at cover32.com! Citizens of Los Angeles — Sklarbro Country will be a part of the LA Podcast Festival on October 5th! Go to http://lapodfest.com for tickets.