Vicky Vox
Vicky Vox is an American drag queen, based in California. She is the drag daughter (protégé) of Detox. Vicky Vox uses her own voice in most of her drag performances. Vicky Vox auditioned for RuPaul's Drag Race with an audition tape made with Willam Belli's help.
Host Information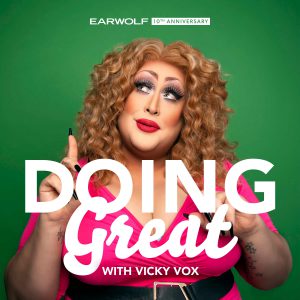 Join renegade drag queen Vicky Vox for the interview show with a twist - she uses tarot and hot-takes to answer guests' questions about their own lives. Or at least that's the plan. Tune in for fabulous pop culture, moments of shame, and the fringiest of conspiracy theories - we're a safe space for Alien abductees. Vicky wants to hear about people turning their difference into their greatest strength – like she did with drag. Striking the balance between meaningful discussion and wild night out, Vicky Vox wants you to know that you are Doing Great.
Guest Appearances
What's poppin, con-gregation? This week Vicky Vox and Laci expose the conman who pocketed over $250,000 dollars from a government biofuel program. But to be fair, he did have three wives to feed. In other polygamy news, they cover another morman mastermind…
Listen
Vicky Vox (Doing Great) joins Zach and Jess for an all new musical packed with a bunch of huskies in Alaska, sexy scary wolves, and more. With songs like "Can I Just Say? (Husky Hullabaloo)", "A Sexy Scary Wolf", and "Your Right…
Listen
Drag queen Vicky Vox sits down with Cameron to discuss starting in drag, handling undergarments and eyebrows, and everyone's individual way of processing trauma. Listen to Vicky's new podcast Doing Great on Earwolf!
Listen
Earwolf
Newsletter Signup